WHAT WE DO
Jump Juice Bars offer you the best tasting juices and smoothies delivered professionally from an uplifting environment.
When you visit a Jump Juice Bars your senses are awakened. The smell of freshly squeezed fruit and vegetables, the vibrant colours of the fruit and décor, the juicers and blenders humming in the background along with the friendly informative staff brings your experience to a higher level.
Having the passion and conviction to bring you this positive experience every time is what Jump Juice Bars are all about.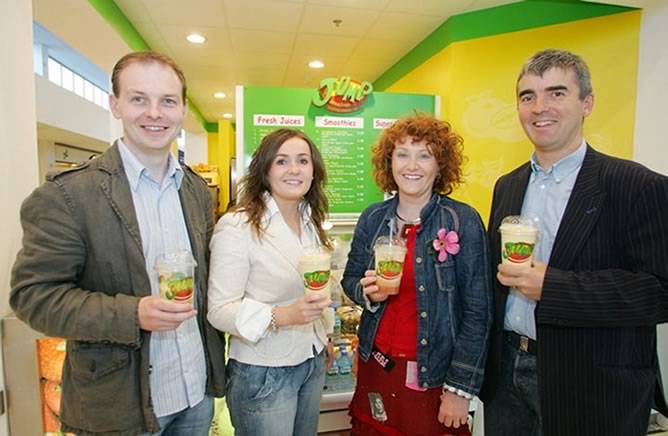 HOW IT STARTED
Two twenty somethings Claire (operations director) and Charlie Scanlan (managing director) started Jump Juice Bars when they opened their first store in Waterford in August 2003. Both advocates of healthy eating they found it  difficult to find a healthy alternative to traditional fast food when outside the home. So following some international research (long holiday) to see some of the best in class juice bars operating in America, Canada and Australia they made the Jump and have not looked back since.
Two thirty somethings+ Denise and Conor Phelan joined Jump Juice Bars as directors in 2004. Denise and Conor established the Cork based Phelans chain of pharmacies. Having sold a number of their pharmacies they saw Jump Juice Bars as the perfect way to diversify their interests into something that promoted a healthy and active lifestyle much like their own.